2021 South Shore Real Producers "Top Producer"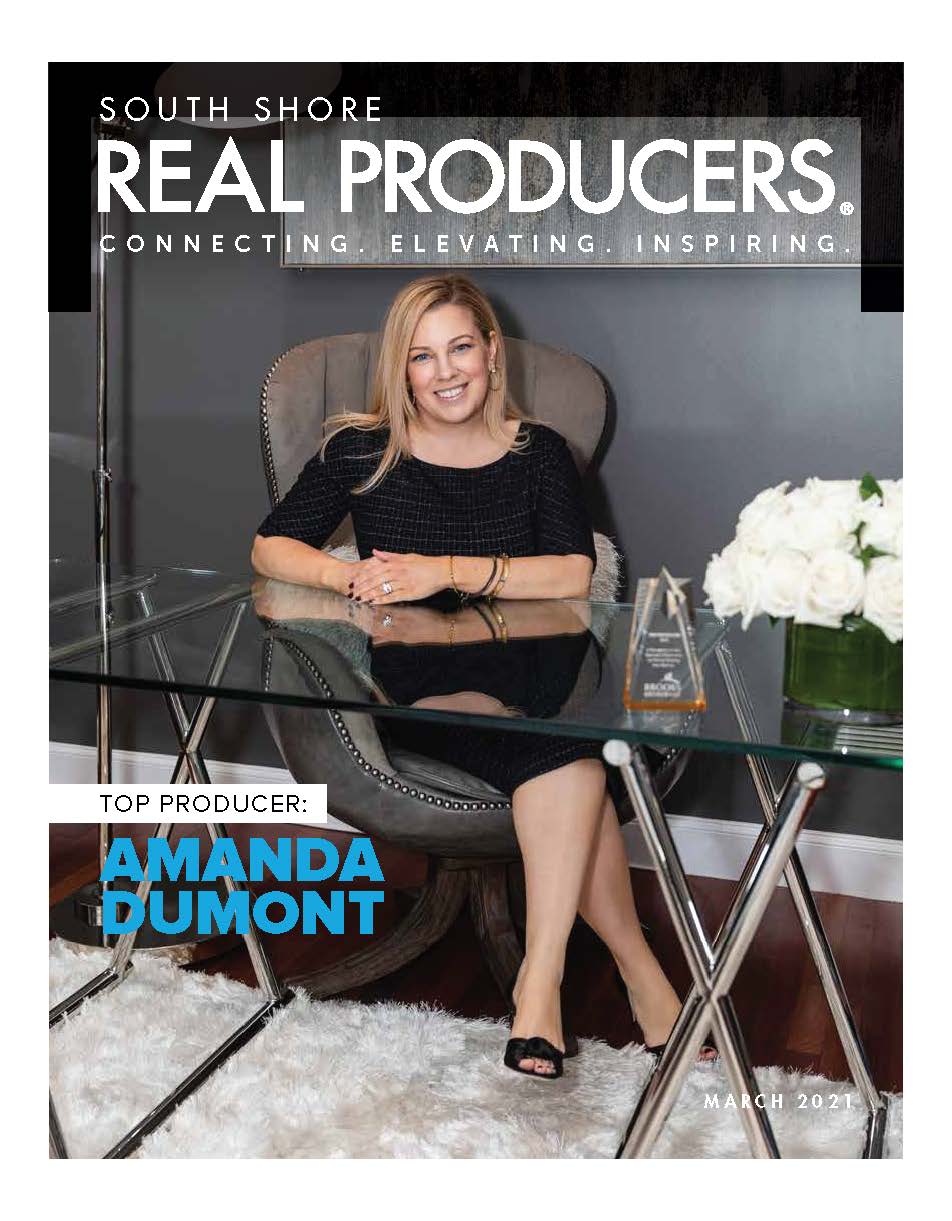 Amanda Dumont has never shied away from the competition. Raised in the northern part of the state, she was one of five girls in her family. With a full house, Amanda learned early on the art of making a deal. "My negotiation skills started with my sisters without a doubt," she said, laughing, "you had to know how to make a deal in my house."

Amanda spent many years as a competitive dancer, starting as a young girl and remaining invested in the sport straight through college. "Dance is very competitive, and that competitiveness is in my blood. Grit, dedication, and need for perfection were qualities I developed and attribute to my years as a dancer."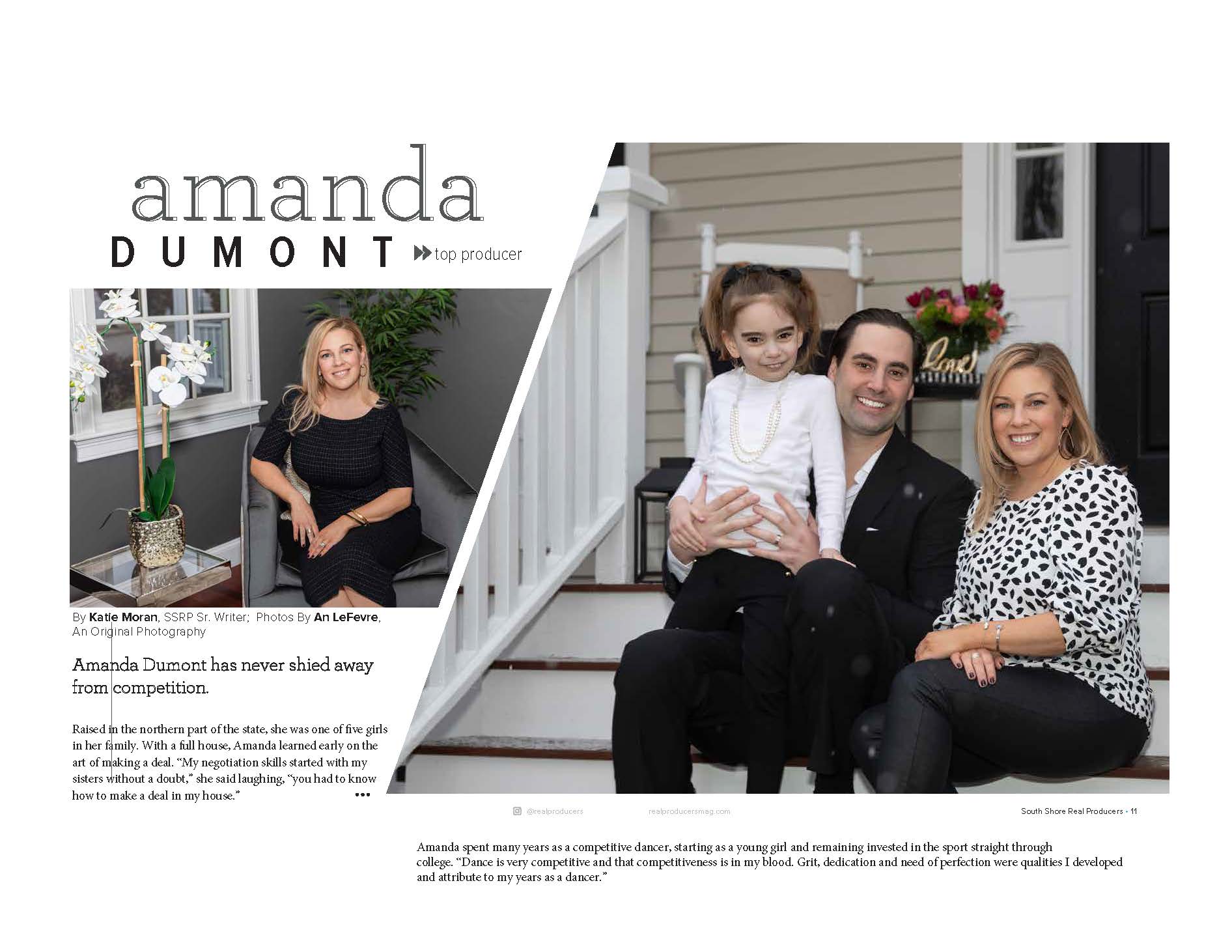 Eventually, her time as a dancer led to her becoming a dance instructor herself. Amanda had the opportunity to lead the dance team
for the University of Massachusetts Lowell through its inception and in the years to follow. Having begun her undergraduate degree
at Boston University, Amanda then finished her Bachelor's in Business and Marketing at UMASS Lowell too.

It was in 2003 while finishing her college studies, that her real estate career began. Amanda was hired to assist with a property development local to the campus, "I can still remember my first day and the immediate love of the work."

Historic rehab is where Amanda's heart lies in many ways, it being her first real exposure to real estate as a whole. "I had an incredible education on how sales and lease-ups were achieved, but also learned from the ground up how a project is created, where it starts and how it grows from there."

In 2004 she was brought to the South Shore for the Atlantic at Marina Bay development. "Once I came to the South Shore, I realized I had an affinity for brokerage, and I loved that part of the business."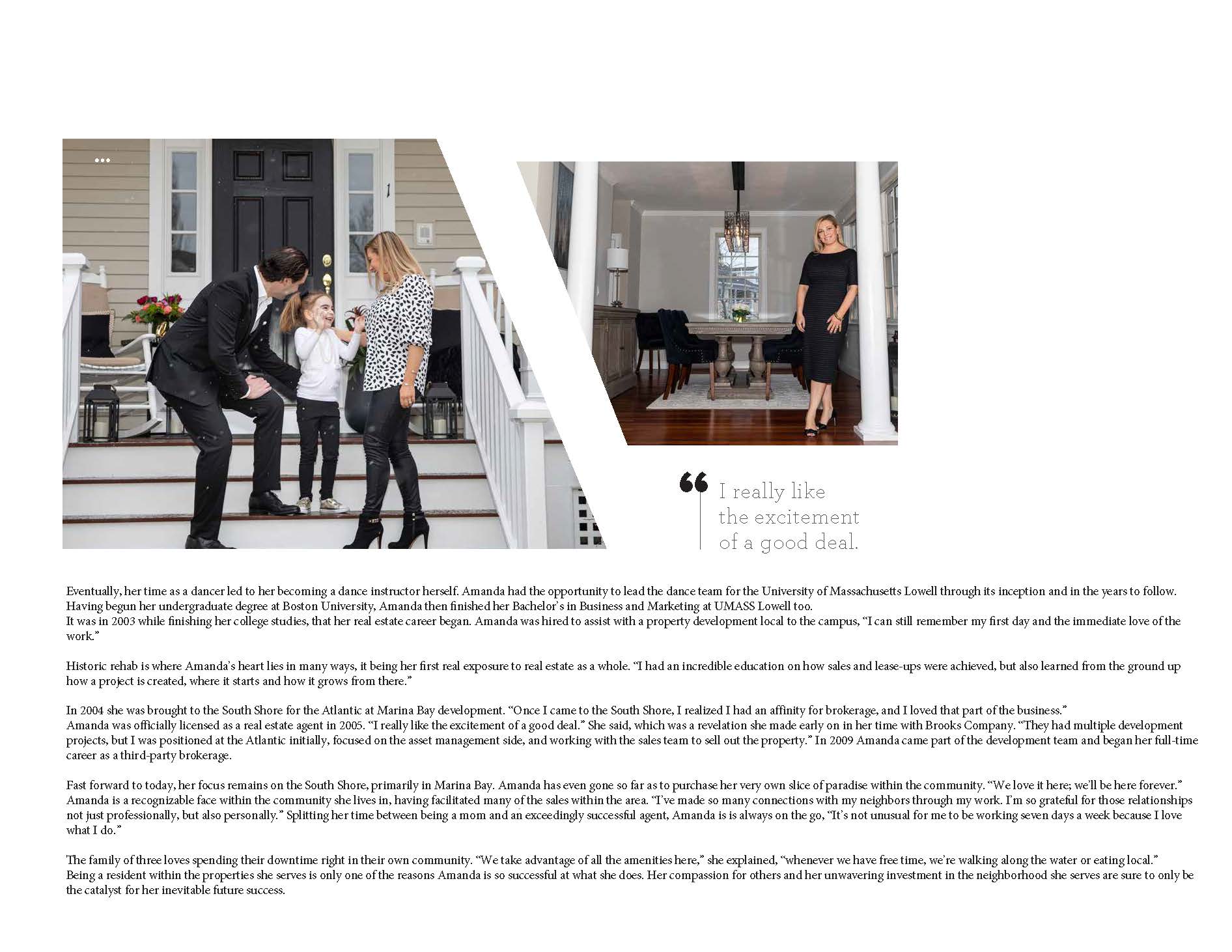 Amanda was officially licensed as a real estate agent in 2005. "I really like the excitement of a good deal." She said, which was a revelation she made early on in her time with Brooks Company. "They had multiple development projects, but I was positioned at the Atlantic
initially, focused on the asset management side, and working with the sales team to sell out the property." In 2009 Amanda came part of the development team and began her full-time career as a third-party brokerage.

Fast forward to today, her focus remains on the South Shore, primarily in Marina Bay. Amanda has even gone so far as to purchase her very own slice of paradise within the community. "We love it here; we'll be here forever." Amanda is a recognizable face within the
community she lives in, having facilitated many of the sales within the area. "I've made so many connections with my neighbors through my work. I'm so grateful for those relationships not just professionally, but also personally."

Splitting her time between being a mom and an exceedingly successful agent, Amanda is always on the go, "It's not unusual for me to be working seven days a week because I love what I do."

The family of three loves spending their downtime right in their own community. "We take advantage of all the amenities here," she explained, "whenever we have free time, we're walking along the water or eating local." Being a resident within the properties she serves is only one of the reasons Amanda is so successful at what she does. Her compassion for others and her unwavering investment in the neighborhood she serves are sure to only be the catalyst for her inevitable future success.